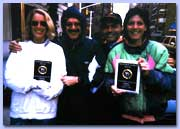 The Hellgate Road Runners (HRR) was founded in Astoria Queens, NY by a group of friends
in February 1996. Of course at that time, we didn't even have a name to call ourselves, but we did have $550.00 in a jar of quarters.
In March 1996, the name Hellgate Road Runners was voted in by a narrow margin. Hellgate is the beautiful, red, historic Hellgate Bridge which runs over the East River and Astoria Park in Queens.
In April 1996, it was official! We became a member of the Road Runners Club of America (RRCA) as a non-profit organization. The Hellgate Road Runners is now incorporated by the state of NY with tax exempt status. The HRR also fosters involvement in civic community projects for all age groups – young children through Seniors.
The team continues to grow as we welcome runners of all abilities. We meet for group runs on Wednesdays, Thursdays, and Saturdays in Astoria Park. If you are in the area, come down and run with us.